Liberty simplifies data collection
It simplifies the implementation and daily management of data collector agents in poorly adapted client environments  (no server, no workstation control, low IT skills, Mac environment,…).
The Liberty stand-alone box reduces the time technicians spend managing collection agents and thus optimizes the operational costs of the technical service. By limiting disconnections and allowing remote access to MFP and printer web pages, it helps to reduce travel and carbon footprint.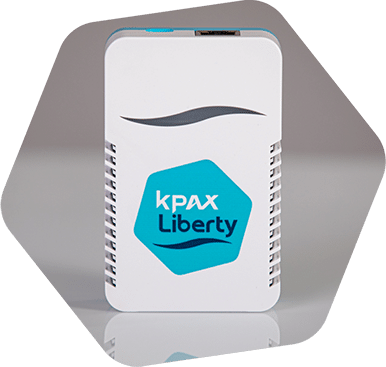 Enhanced stability
Independent of the client infrastructure = fewer
disconnections than a software agent = less time spent by technicians managing agents.
Reduced management time
Simple and quick installation, simplified and centralized administration (Reinstallation, Reactivation, Updates).
Independent of IT infrastructure
It can be installed in heterogeneous and specific environments.
Internet of Things
It allows you to intervene on the web pages of devices whatever the brand (configure, reboot, upgrade) and limits the movements of technicians (late 2019).
Highly secured
It does not include an OS, communications are encrypted in 256-bit AES.
With Liberty, bring your Mfp into the world of
IoT
(late 2019)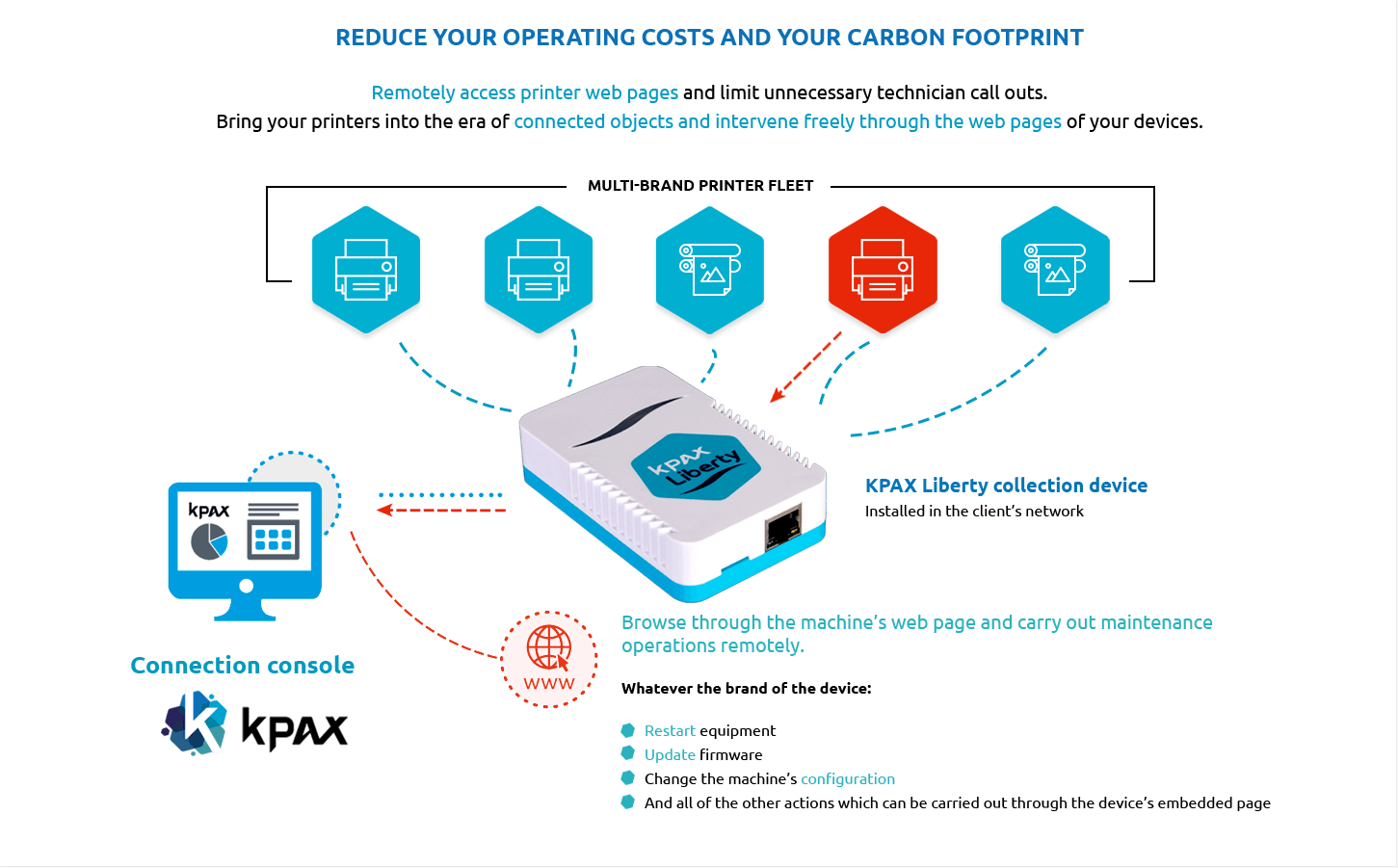 Liberty is not a Raspberry Pi, so beware of imitations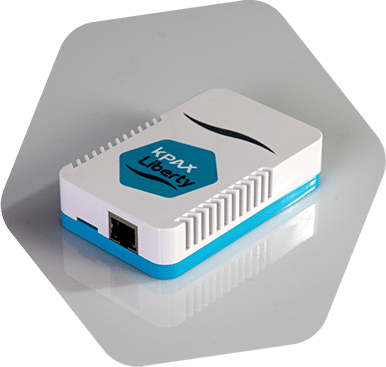 No OS = No virus
Centralized update and monitoring system
Secure 256-bit AES communications
Easy configuration and installation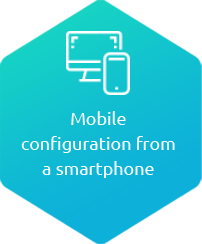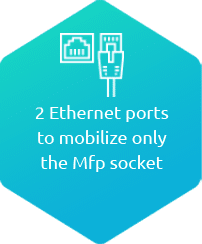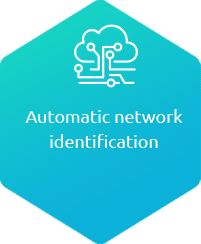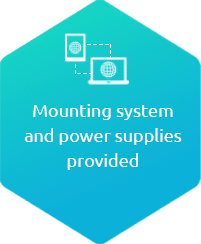 Foolproof connectivity
KPAX Manage Liberty is compatible with all secure market proxies ( SOCKS and HTTPS Prosy) and communicates on HTTPS port AA4.
Integrated Wi-Fi card
Connect to the Liberty unit'sprivate network and set it up directly from your smartphone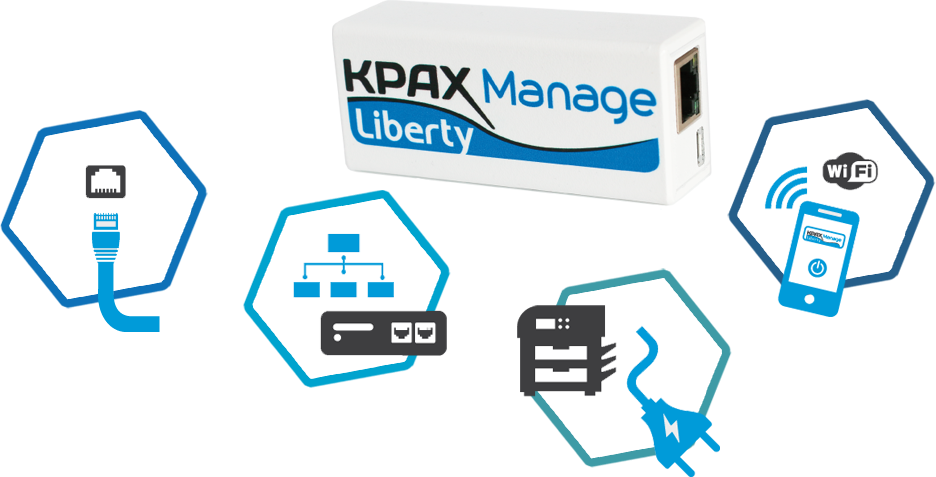 100 Mbit/s Ethernet switch
With 2 RJ45 sockets an integrated switch, you can connect your liberty using the network cable from one of the MFPs. Then just connect a second Ethernet cable ( supplied) to the MFP, and you're done!
Low-consumption power supply
It's low-consumptio electronic compnents allow the liberty box to cnsume a small amount of energy whilst in standby mode and even during operation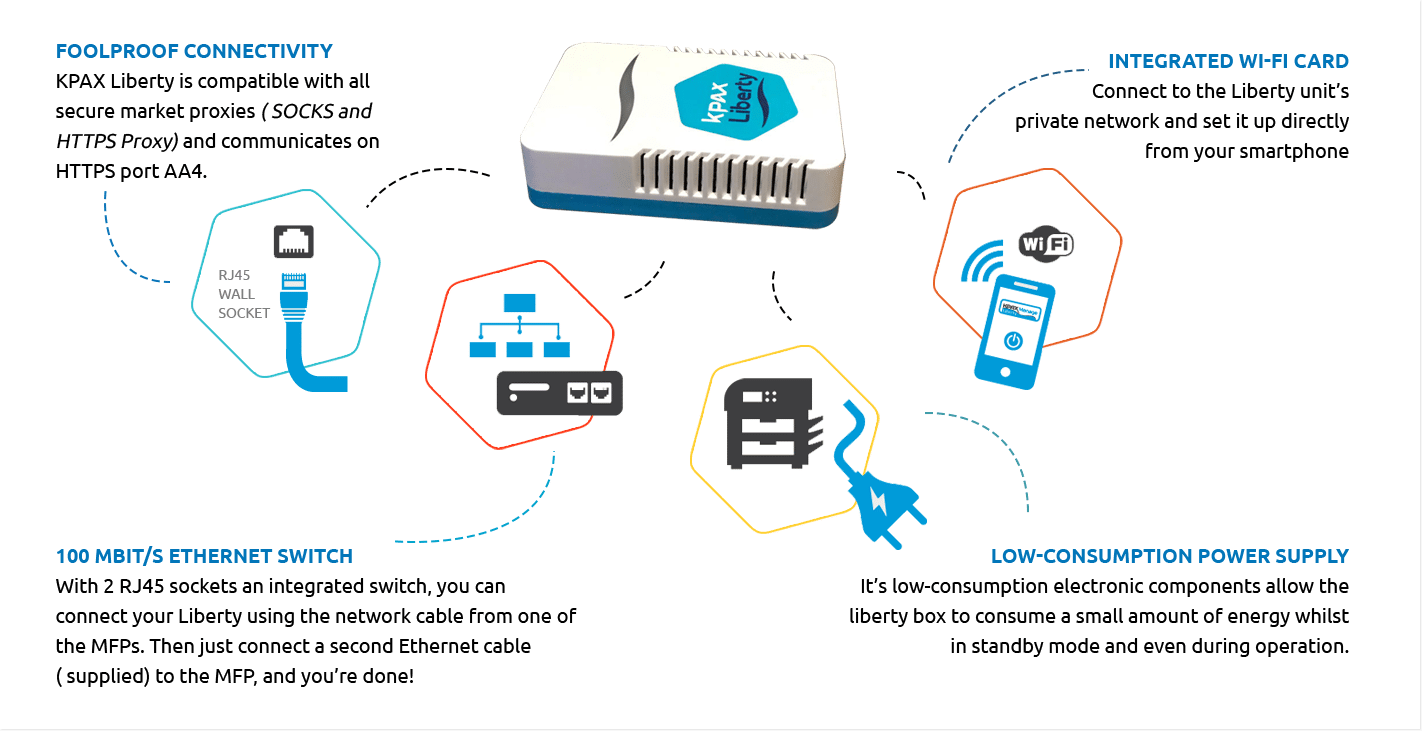 Want to know more about KPAX?
Schedule a presentation with our experts