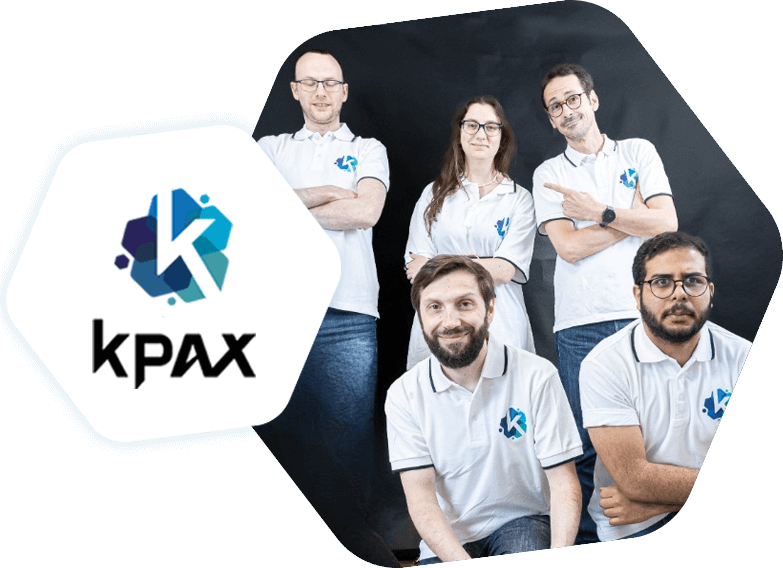 pRINT MANAGEMENT SERVICE COMPATIBLE WITH ALL BRANDS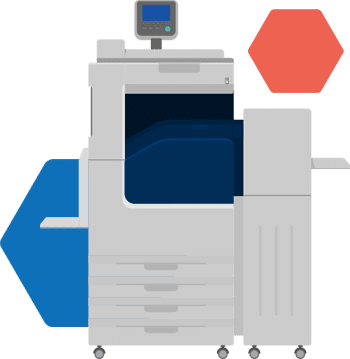 From a single interface, you can access technical information "in real time" on MFP and printers regardless of the number of sites, customers or devices. Depending on your user rights, you access the different levels of the organisation (Global/Distributor/Customer/Site) and access different functionalities.
KPAX provides analytical processing of the collected data to produce indicators, dashboards and reports.
Exports can be automatically generated and used by third-party applications to inventory, invoice, deliver supplies, manage technical interventions and produce analyses. Data is collected on networked equipment from a collection agent installed at the customer's premises/site. It is necessary to install one agent per network; this agent can be software (KPAX software agent) or hardware (Liberty).
KPAX is an independent and neutral solution with over 10 years of experience in collecting information on copiers, MFP and printers.
Our 10 years of experience and our partnerships with manufacturers allow us to operate with all brands. In 2019, we are managing over 700,000 machines on our servers, more than 5,000 different models for 15 manufacturers.
Compatible with all brands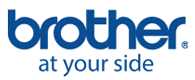 pRINT MANAGEMENT SOFTWARE BASICS
Make technicians' jobs easier
And really reduce your operating costs! With KPAX technology, your technicians spend less time installing and managing customer collection agents. Agents installed at customers' premises retrieve information in SNMP or on web pages from networked equipment. They are fully secure and it takes less than 10 minutes to configure them.
The software collection agent: Miscrosoft compatible, can be easily installed remotely thanks to the simplified procedure email
The Liberty is a hardware collection agent: It is not a Raspberry Pi, it does not depend on the client infrastructure, it can be sent pre-configured
Automates meter readings from network printing systems regardless of the brand, to invoice or validate billing
Retrieves information on the status of supplies, which makes it possible to automate delivery and benefit from optimal management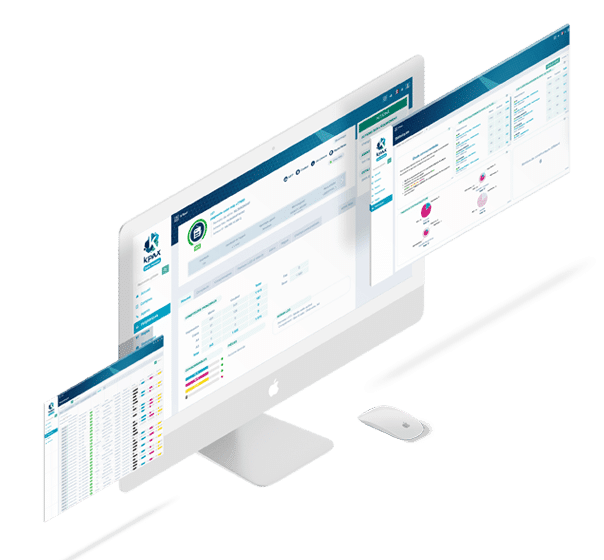 Collects technical alerts and device error codes, allowing you to provide proactive and efficient after-sales service
The collected data can be used in

third-party softwares

through exports or bi-directional connectors
Produces dashboards, indicators or reports necessary for situation analysis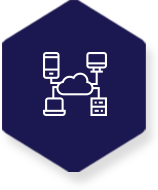 Hosting
Available in cloud or on-site version  (Planned)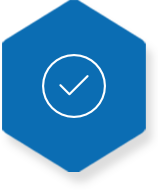 Credibility
10 years of experience, currently 700,000 managed devices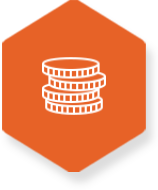 Finance
Pay with Koins, and only for the data you use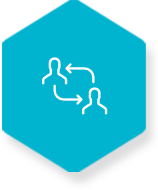 Proximity
With our MVPs, you'll always have a certified expert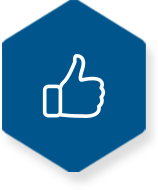 Availability
Ensure better service availability with Liberty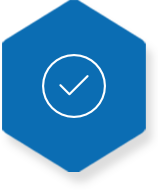 Integration
KPAX allows "by design" to develop bi-directional connectors with third-party applications
How DOES OUR PRINT MANAGEMENT WORK?
Whether your space is accessible on our Cloud or from your own server (On premise version available soon), you access KPAX from a single interface that allows you to track data collected on printers and MFP, regardless of the number of devices, clients and sites. According to their rights, each user has access to the different levels of the hierarchy (Global/Distributor/Customer/Site) and to the different functionalities. To monitor the activity of printing systems at a customer's premises or on a site, you just need to deploy a data collection agent, whether software or hardware (Liberty), and associate it with its KPAX space. The collection agent (software or hardware) can track an unlimited number of printers or MFP on the same network.
Full https communications + AES 256-bit communications with Liberty
Sensitive data secured at the server level "GDPR" compliant".
Cloud offer: Each customer has a database, a DNS and a secure environment dedicated to them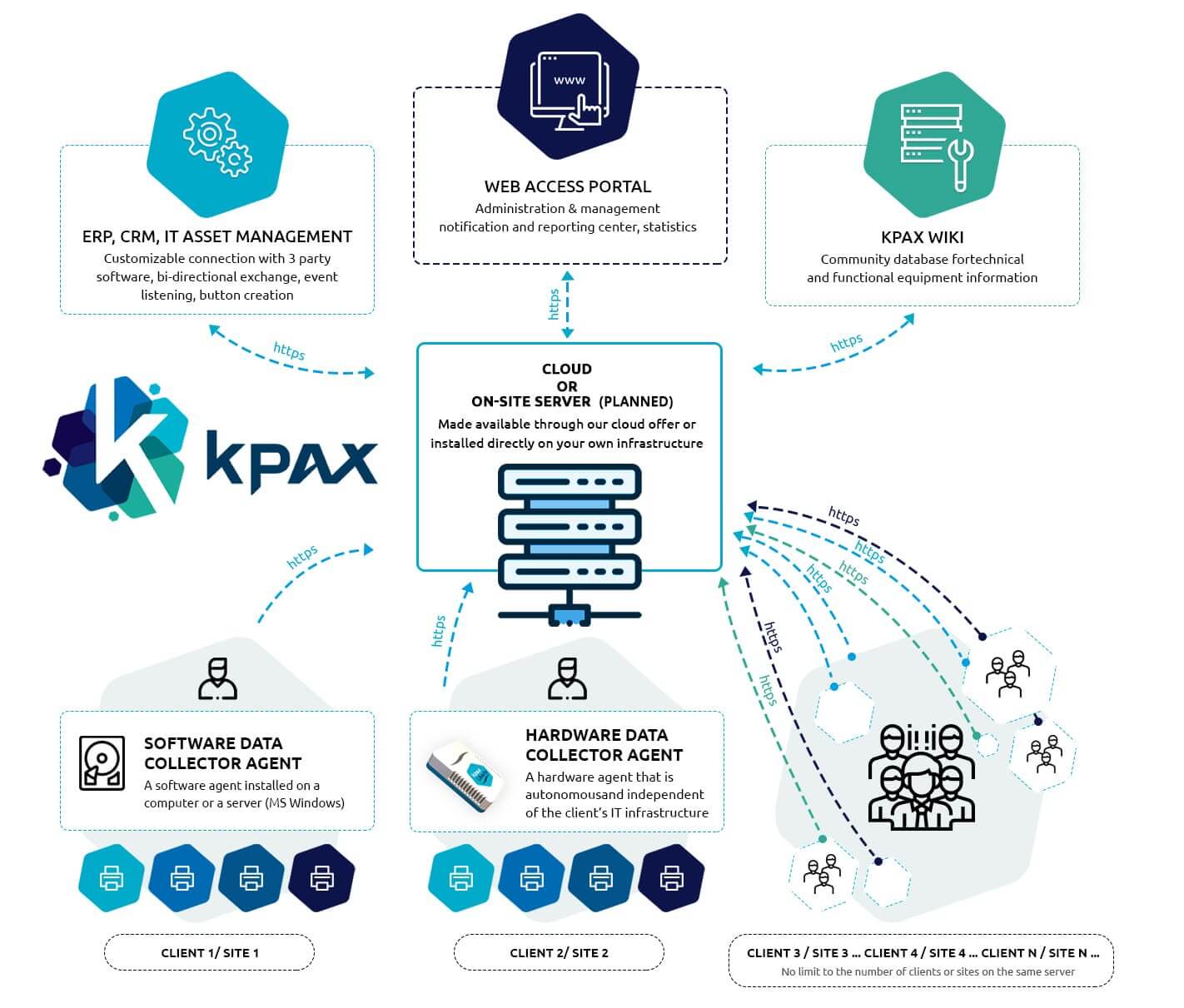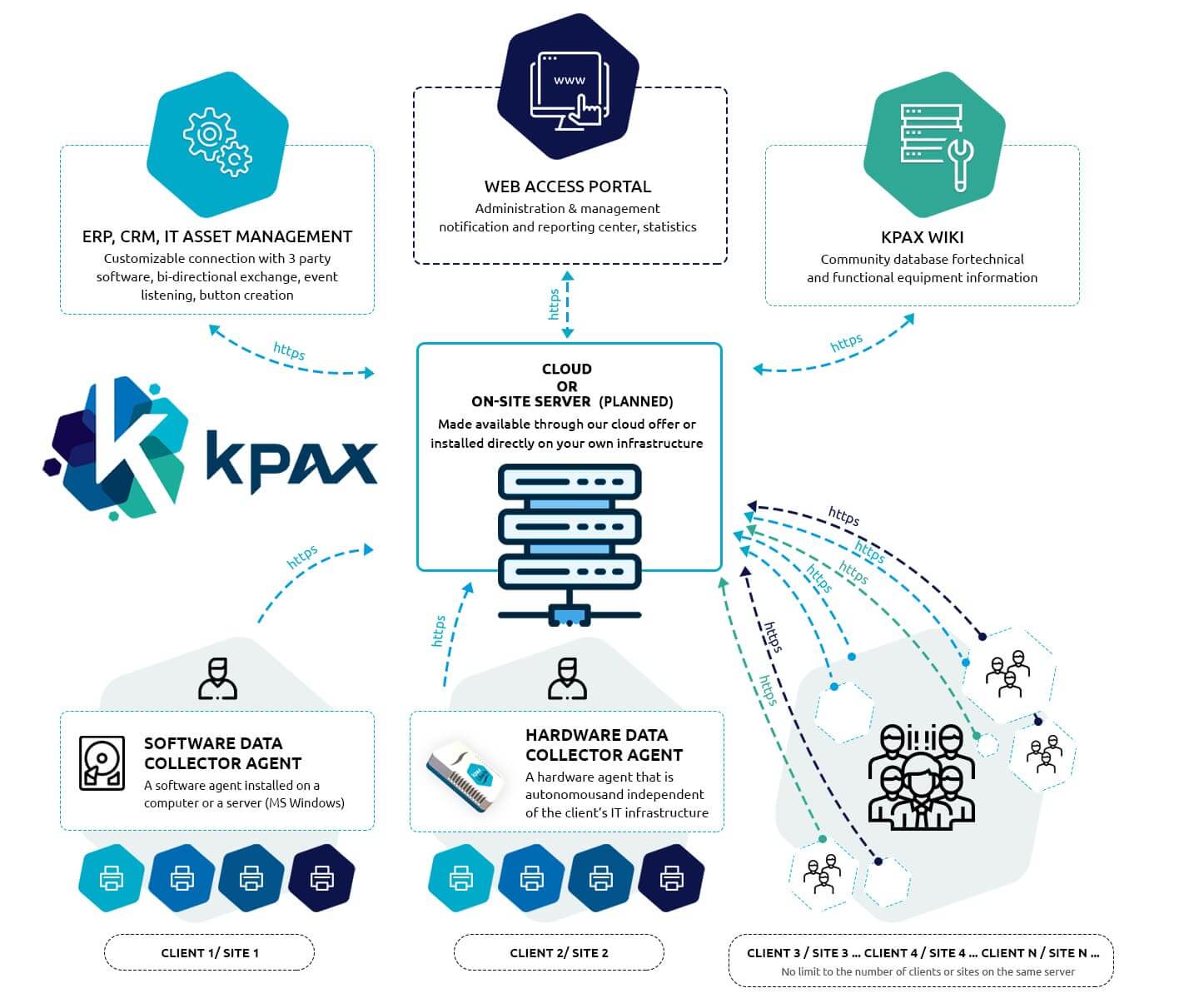 Want to know more about our print management software? Schedule a free trial